Donation to Rye Community Centre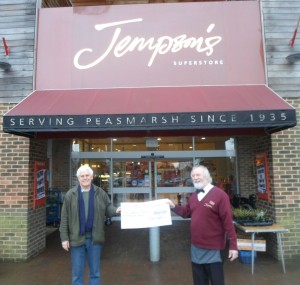 The Jempson Foundation has made a donation to Rye Community Centre.
The period buildings main hall ceiling required urgent replacement, which now nearing completion, was necessary for the continuing use by many volunteer organisations, who are the main users of the hall.
Geoff Boudreau Chairman of the Community Centre Association said 'We would like to thank the Jempson Foundation for its donation' he continued 'We need to raise £10,000 for this essential repair work to be undertaken, so far we have raised over £8,000'.
Stephen Jempson said 'The Jempson Foundation was established to extend our support to the local community where we operate our Supermarkets and Cafe's, it gives us tremendous pleasure to make this donation'.
Throughout 2013, the Foundation donated thousands of pounds worth of support by way of donations, as well as continuing sponsorship of local events such as Rye's Christmas Festival.
Over the Festive Season, in the region of 400 grocery bags were also gifted to members of the community that have been affected by the economic downturn. Rye Lions, Rye Rotary, Rye Partnership, Amicus Horizon and The Salvation Army assisted with the distribution of those donations in the lead-up to Christmas.
Photographed is Community Centre Chairman Geoff Boudreau with Jempson's Peasmarsh Greeter Nick Double.